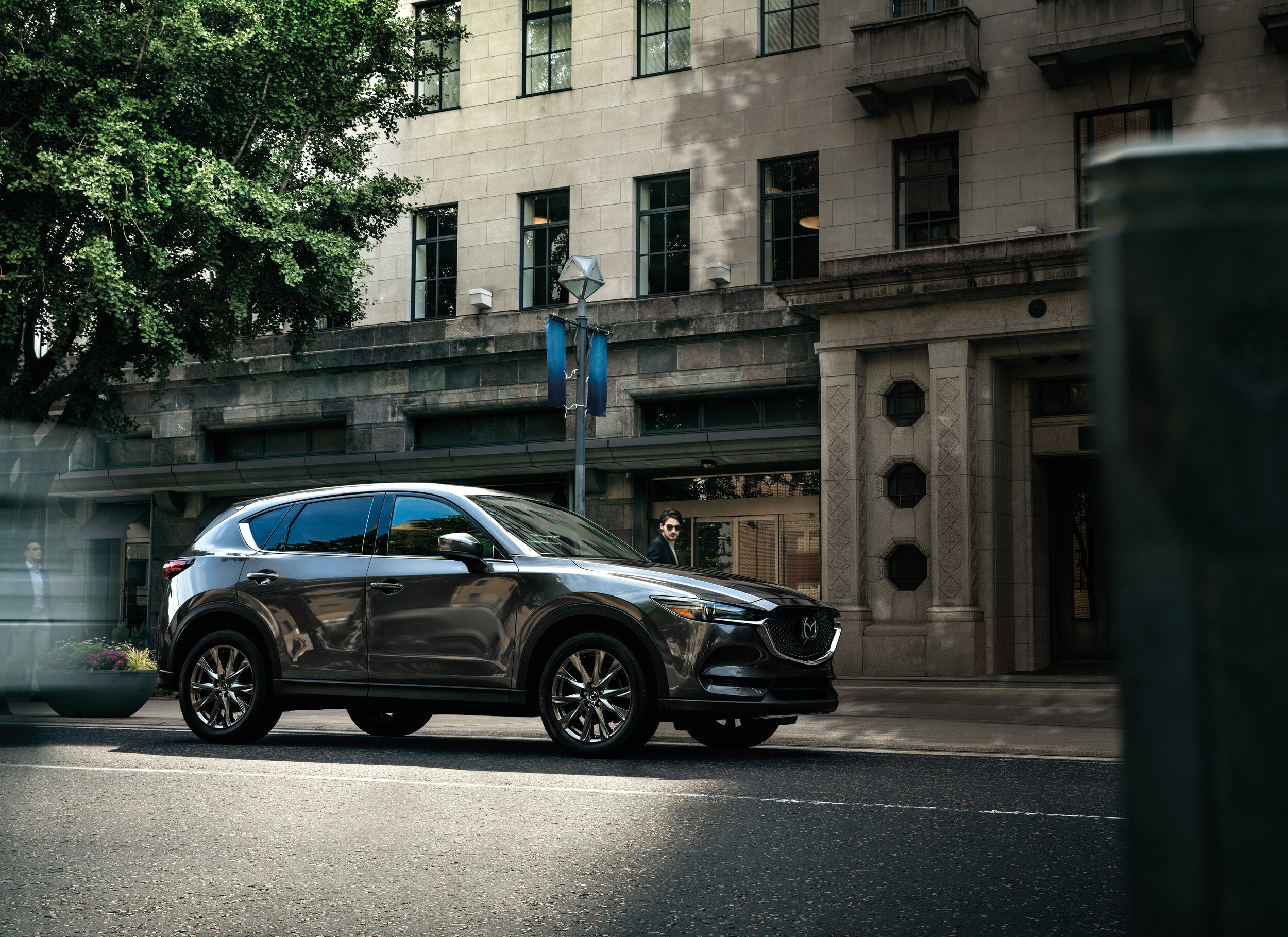 ?
Midsize crossover SUVs like the Mazda CX-5 and the Toyota RAV4 are quickly becoming some of the most popular vehicles on the road. This is because they come with connective technology, they are incredibly flexible, and they have decent performance. Our team at Tom Dolans Reno Mazda Kia can go over the pros and cons of each model to help you choose which one is best for you. While these two models have much in common, there are a few factors that set them apart. Continue reading to learn more.
Exterior & Interior Styling
When it comes to styling, both models represent their brands well. The CX-5 encapsulates the Mazda design language with modern lines and sharp LEDs. On the other hand, the RAV4 has a more understated design that blends in with most other midsize crossovers on the market. This is in line with the design language through Toyota's lineup.
The CX-5 also has a more cohesive and smooth design, while the RAV4 is a bit more abrupt with its delivery.
Both vehicles come in different exterior colors, and they can be customized with different trim levels. The CX-5 has fewer paint options, but all of the paint options look incredibly premium. Toyota has taken a different approach, as you can get the RAV4 in 17 different paint options. It is nice to have so many choices, but none of the possibilities pop like the ones available on the CX-5. Toyota is focused on being able to be a jack of all trades, while Mazda has concentrated its efforts on making the CX-5 feel as premium as possible at a lower price.
One of the best places to see how these vehicles differ in design ethos is in the interior. When you enter the cabin of the RAV4 it is exactly what you expect from Toyota. Everything is exactly where you expect it to be; all of the controls are intuitive and in an ergonomic position. None of the materials will surprise you, but you also get the feeling that the interior will stand up to the test of time.
Once you enter the cabin on the CX-5, you will be treated to much finer materials, and you will see real craftsmanship at every inch. The CX-5 invokes real emotion with its design, and it aims to be more than just a practical vehicle. You will get the feeling that the engineers that worked on the CX-5 love what they do, and they want each vehicle they make to feel special.
Technology Features
The technology you will find in both vehicles is similar, but it is better executed in the CX-5. Both vehicles offer you an MMI, but in the RAV4, everything is controlled by a touchscreen head unit that looks aftermarket. Mazda instead gives you a premium display that is exclusively controlled with the MMI controller in the center console. Mazda does this to help cut down on distractions while you are behind the wheel.
Customization Options
When it comes to further customizing these vehicles, both manufacturers have decided to break down the models with trim levels.
The Toyota RAV4 is offered in ten different trim levels, which makes it easy to get a RAV4 with the features you are looking for, but it also means it is easy to get a RAV4 in a less than desirable spec.
Meanwhile, the Mazda CX-5 is only available in five different trim levels, and even the base Sport trim comes with tons of great features. All of the CX-5 trim levels feel well built, but as you go up the range Mazda uses better materials and includes more technology.
The RAV4 is slightly different, as some models come with very little in the way of features, and the interior does not change drastically as you go up in trim levels.
Find Your Mazda CX-5 Today
To get a more comprehensive comparison, you can visit our team at Tom Dolans Reno Mazda Kia. We will be able to break down each of these vehicles even further, and we can even take you on a test drive around Reno so you can see which model feels like the perfect fit.